FACTS ABOUT SHOES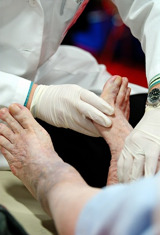 Poorly fitting shoes can cause bunions, corns, calluses, hammertoes, and other disabling foot problems.
One in six persons have foot problems. Thirty-six percent regard their foot problems as serious enough to warrant medical attention.
The cost of foot surgery to correct foot problems from tight-fitting shoes is $2 billion per year. If time off from work for the surgery and recovery is included, the cost is $3.5 billion.