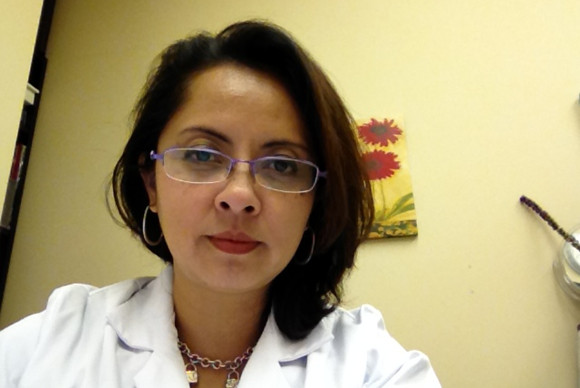 Anamelva Revoredo
B.SC., D.CH., IIWCC
Anamelva earned her B.Sc. from the University of Toronto in 1991 with a specialist degree in Human Physiology and a major in Biochemistry. Graduated from the Chiropody Program at The Michener Institute in 1996, obtaining the Omar Shearer Award for excellence in Research and specializing in the field of Biomechanics.
She has worked for the Toronto General Hospital, The Doctors Hospital until its amalgamation and The William Osler Health Centre serving the Georgetown site. Anamelva has been practicing in Port Credit for over 5 years, at her own clinic, and brings to this community many years of experience in the field of chiropody and inter-professional collaborative care.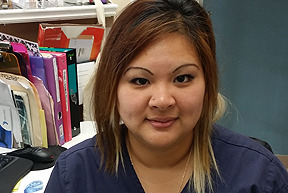 Teresa
Head Administrator
Teresa was born in Louisiana U.S and raised in Toronto. She is fluent in English and Vietnamese. She attended George Brown College for Medical Office Admin and Medical Lab Technician.
Teresa enjoys talking to people and making people happy. She always brings a bright smile with her to work every day. A day with her is all about managing the front reception and keeping everything in place. Whether it's greeting patients or answering calls or booking appointments she is always on point. She is passionate about her job and she loves doing what she does. Patients always like to come in and talk to her after their visits due to her bubbly personality. She takes pride in assisting patient to receive the best services and products in our clinic with style.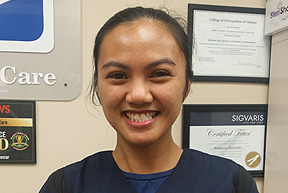 Devielyn Macadaeg
Chiropody Assistant
Devielyn was born and raised in the Philippines. She graduated in Philippines with a Bachelor of Science degree in human biology. She moved to Canada in 2008 taking online courses, she finished with a dental assistant and medical office assistant diploma with honors. She loves doing her job as a chiropody assistant and it was always her passion to work in the medical environment.
Devielyn enjoys helping others and making them happy. She strives to make every visit to the clinic a positive and great experience for the patient. She is a cheerful young woman who makes all the patients her number one priority. Her duties include assisting our chiropodist with surgeries and regular follow up, dealing with the wound dressings and entering patient's visits into our electronic database. She is amazing at her job being our chiropodist right hand. She is anxiously waiting to see you on your next appointment.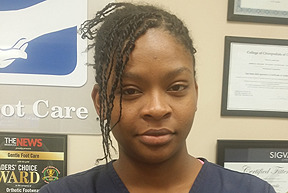 Sherika Wellington
Chiropody Assistant
Sherika was born and raised in Kingston, Jamaica. She attended the University of the West Indies in pursuit to an accounting degree. She later moved to Canada with an objective to be in a medical field.
Sherika has become a great addition to our clinic as it has inspired her to become a registered nurse as a future career. She enjoys socializing with others and making them smile. Sherika tends to assist everyone with the best of her abilities whether she is at the front or at the back. Her daily duties require her to assist our patients such as greeting them and taking them to our treatment rooms. She has always helped our patients feel welcomed, at ease and comfortable as they can be during their visits including their initial visits. Other duties require her to assist with treatments and prepping our patients for the Chiropodist. A friendly smile and warm hospitality awaits you when you book your appointment.