If you suffer from pain related to fractures, connective tissue repair, delayed wound and bone healing, sport injuries, arthritis, acute and chronic inflammation, diabetic ulcers and neuropathic pain, or other chronic and degenerative conditions, Magnetic Bio-stimulation therapy may be the answer for you.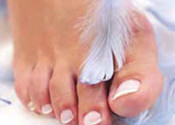 The therapeutic effects of Magnetic Bio-stimulation (MBS) are based on its stimulation of circulation, which contribute to the improved functioning of the body. The ability to have an effect at the cellular level is unique to magnetic field therapy, enabling it to reach parts of the body that other treatment methods cannot reach. By increasing blood supply and metabolism, MBS and Infrared Rays can be used to target a specific area, or to treat the entire body.
At the Gentle Foot Care, we pride ourselves on using all the latest techniques and advances in the field to maximize our ability to accurately evaluate and treat your individual and specific needs. Our friendly and qualified staff will ensure a pleasant visit. We look forward to serving you and exploring the many benefits of Magnetic Bio-stimulation!

By Anamelva Revoredo B.Sc., D.Ch., IIWCC
In an ongoing series, Anamelva will share her knowledge regarding common foot ailments and appropriate treatments. Most of us will encounter a problem at one time or another, so read and learn! If you're in pain, or suffer from any of the ensuing conditions,
call Anamelva today
!