At Gentle Foot Care, we believe you should look after your feet. Since taking care of your feet significantly contributes to your overall health, it's important to choose wisely when it comes to your footwear. Foot problems can arise from improper footwear and may lead to a host of problems in various areas of your body including hips, knees, lower back and the feet themselves. Foot problems can also take a toll on your foot function, comfort and energy comsumption.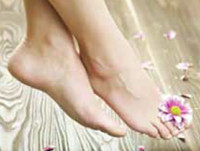 For example, shoes that are too tight can cause impingement and lead to calluses, corns, bursitis and skin breakdown. Good heel support and a firm shank to support you arch are also key.
Clearly, it is important to invest in quality footwear to prevent and maintain the health of your feet and overall well-being. A good shoe will support the foot well while standing, walking or running and decrease risk of injury. Proper width, length, depth and last are also very important. At Gentle Foot Care, we have a wide variety of orthopaedic shoes in a full range of sizes to fit individual needs.
You shouldn't have to suffer with lower limb or foot pain and at Gentle Foot Care, we aim to provide the best foot care possible to give you back that spring in your step. Visit us today to learn how to be good to your feet!

By Anamelva Revoredo B.Sc., D.Ch., IIWCC
In an ongoing series, Anamelva will share her knowledge regarding common foot ailments and appropriate treatments. Most of us will encounter a problem at one time or another, so read and learn! If you're in pain, or suffer from any of the ensuing conditions,
call Anamelva today
!